We are very excited to share with you everything about our newest update into iOS, version 2 of Tripsy. This is an update exclusive to iOS 13+ users that come with lots of great news things we're going to be detailing in this post.
Let's get started.
Documents
Everyone that travels needs to carry documents. Flight tickets, hotel reservations, concert tickets, photos about important information that we cannot forget, like the guide in our Airbnb and much more!
That's why we developed this so that you can save any document into your trip. You can take a photo, choose a PDF, a video from your library, or even write a note to keep it always easy to get.
And the best part is that this is all shared with your guests, so if you're traveling with family and friends, they all have access to the documents and can add new ones. Isn't that awesome?! 😎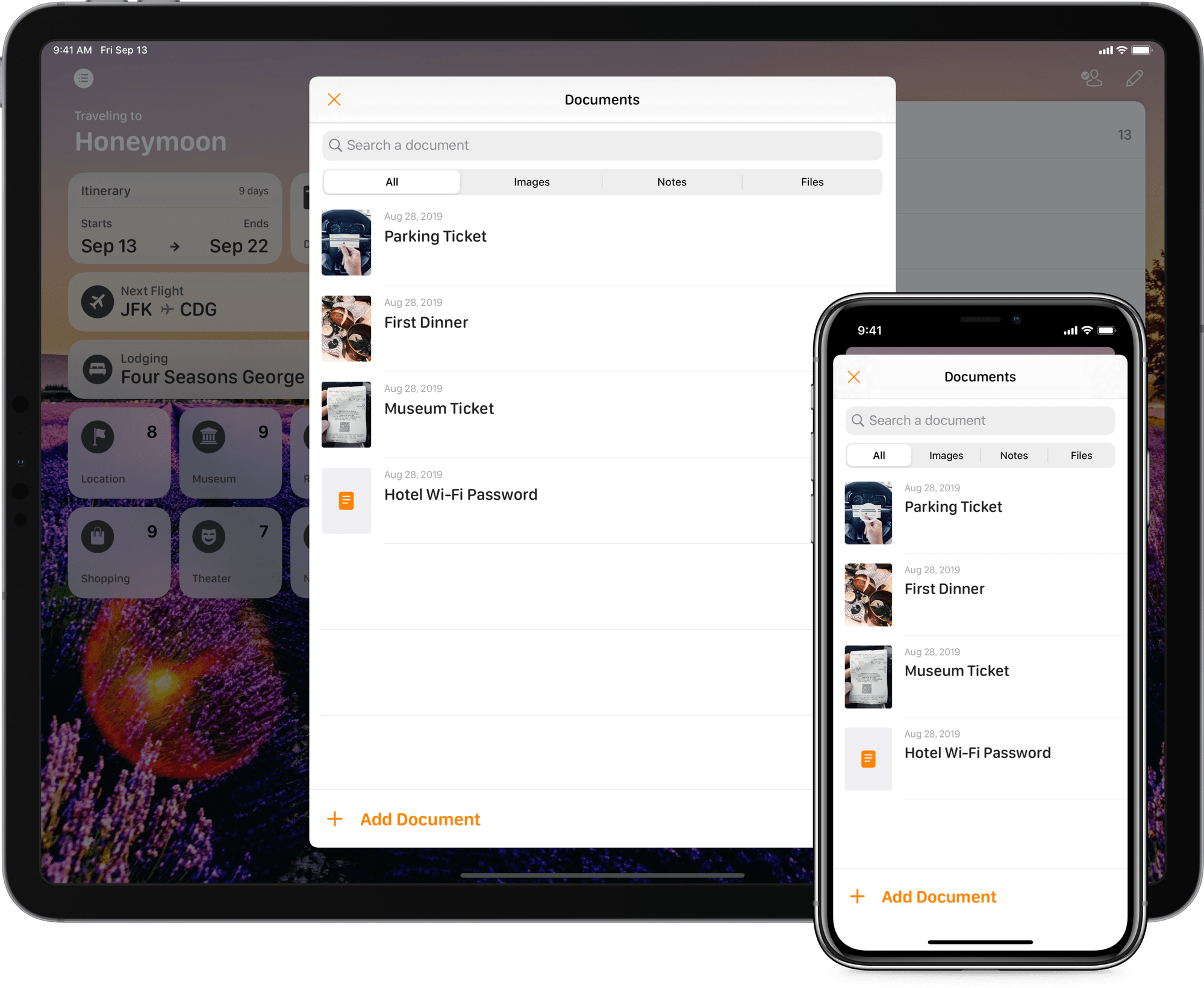 A new experience for adding activities
Adding information about each location can be painful and hard, sometimes we want quickly save a place with as much information as possible and look at it later. In our previous version, we realized the process was too much work, so we used our 🧠 to find the quickest way to add and organize your activities on Tripsy. Check it out:
Adding new activities on your trip is easier than ever on Tripsy 2.0!
Isn't that fast?! You search for it, find it and save. If you want, you can choose the date and time, but you can leave that empty, because sometimes we don't want to have a strict schedule, right? 🏖
Activities Lists
Want to check out all of the restaurants you saved and choose one for today's dinner? Now on the trip dashboard, there's a button to each major category of activities, so you can simply tap on it to see all of the activities that are related to that category. Useful as well to remember the great places you visited during your stay and the ones you missed to come back another time. 😏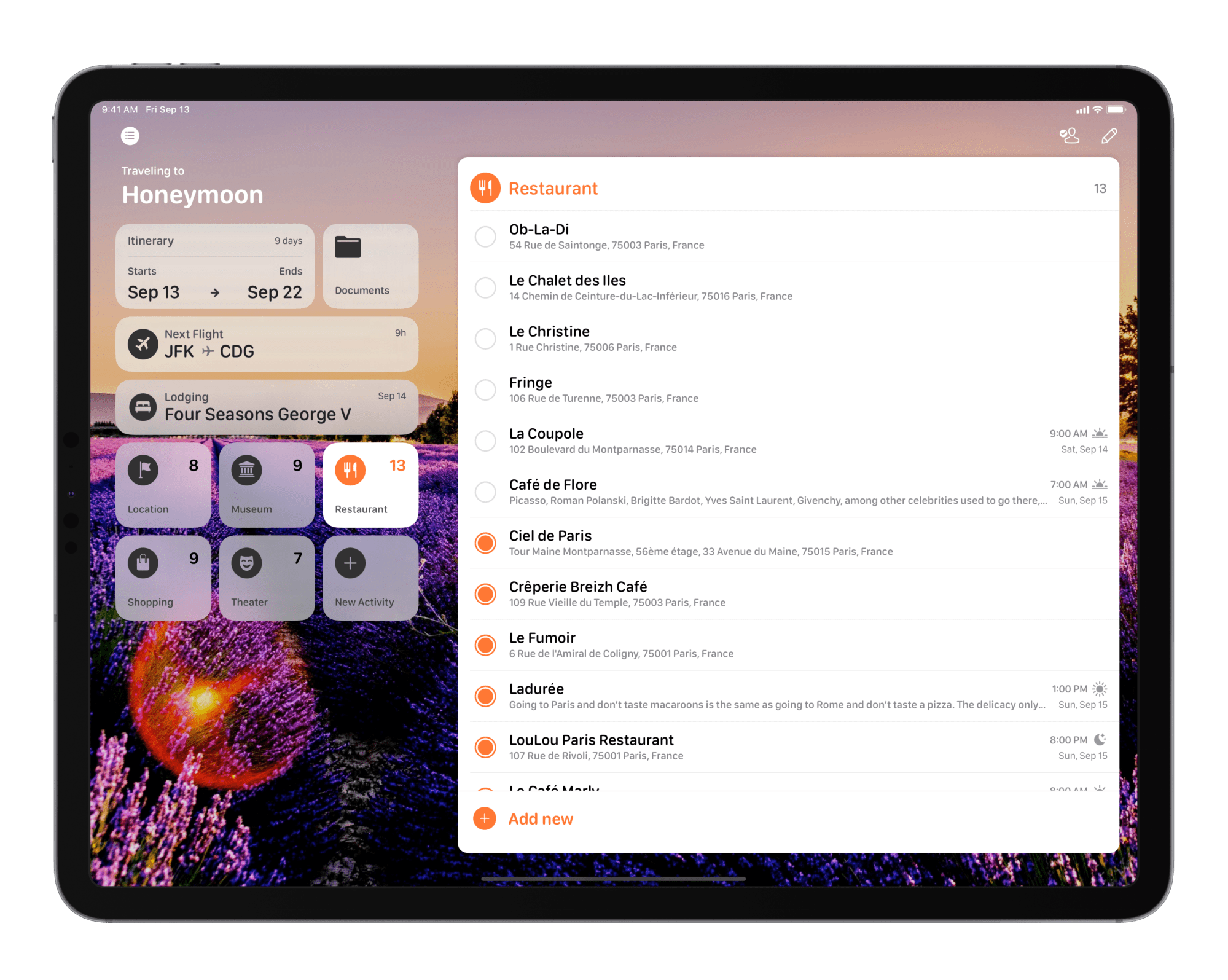 Contextual Information
Have a flight on the next 48 hours? Tripsy will show you a big button with recent information about it on your dashboard, so you can tap on it to see more details.
The app also presents you information about your staying place, so you can quickly access it to get detailed information such as room number, check-in and check-out time and also the address to trace a route using your favorite app.
Personalization
Every trip is unique, it's personal, and you must be able to express your own style and personality on it. So now you can choose an image or a gradient color to put as the background of your trip. You can choose any of the more than 1.2 million free images hosted on Unsplash right from the app. All high-quality photos for your trip look great and inspiring, enjoy! 📸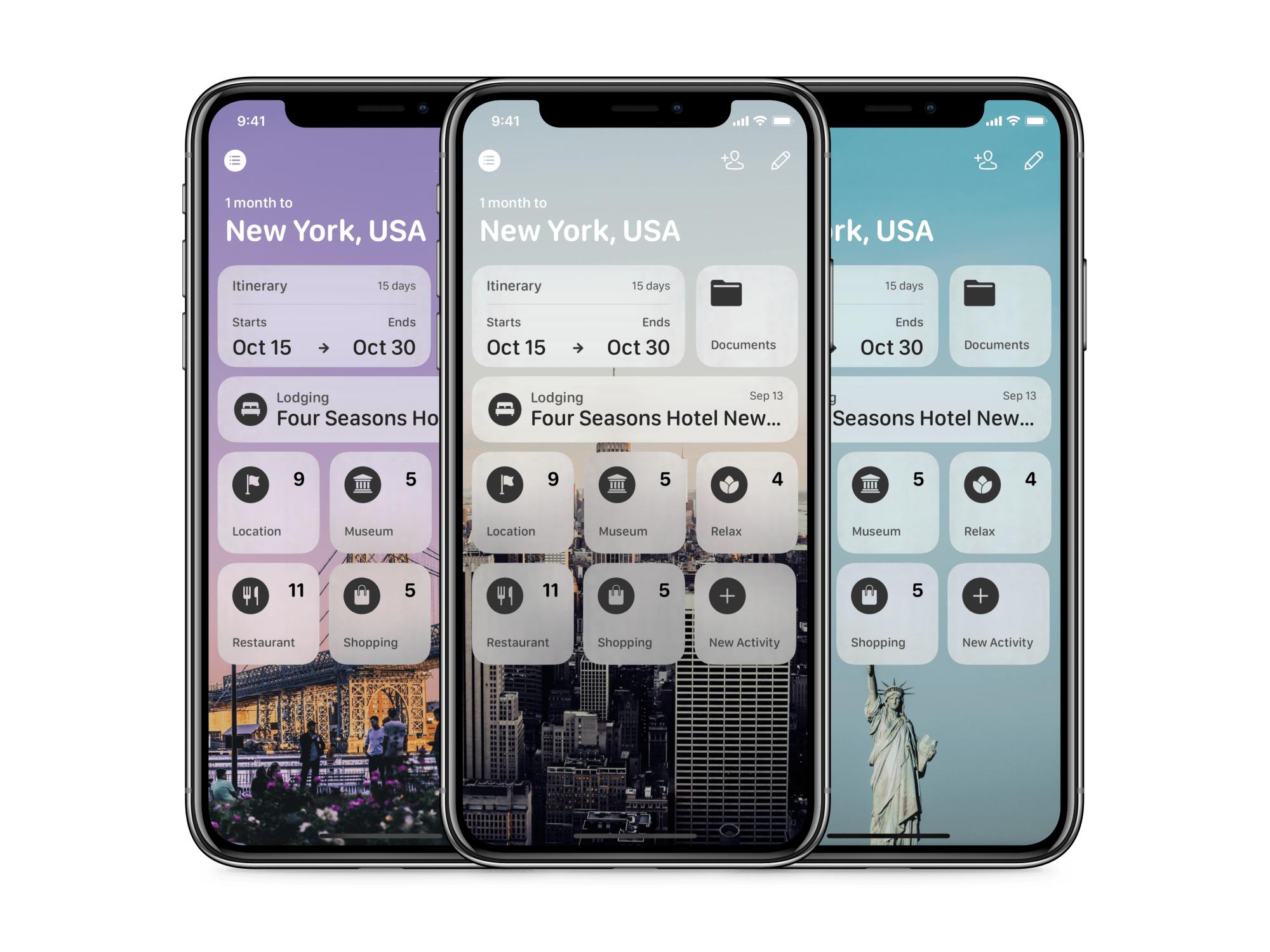 New languages
We've added 9 new languages into the app: Arabic, Chinese, Japanese, Spanish, Italian, French, German, Russian, and Malay.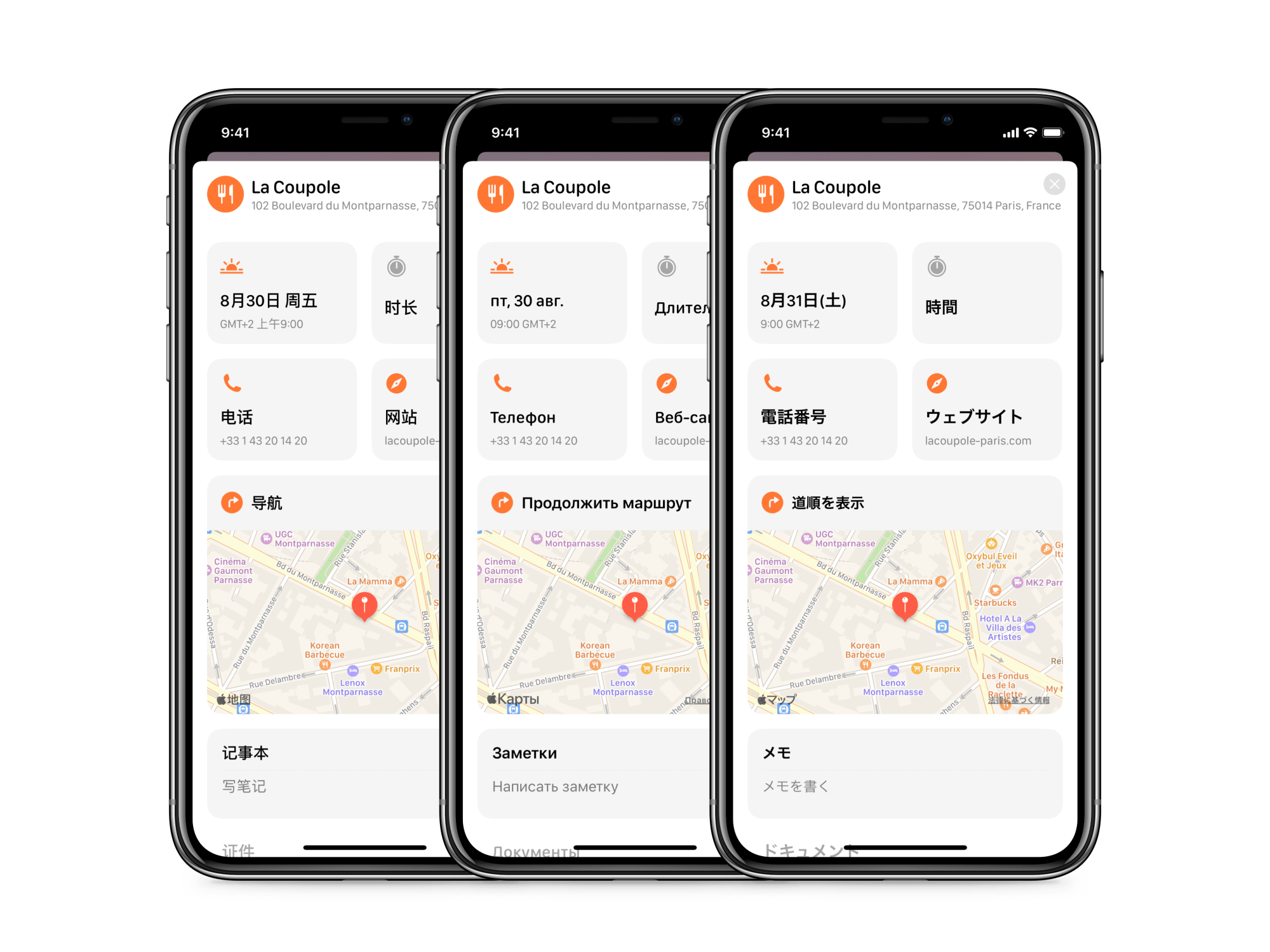 Dark Mode
As some of you know, iOS 13 includes a dark mode visualization for those who don't want that super bright screen on their face at night or even during the day. If you are one of those users, we've got you. The whole app now supports Dark Mode integrated with the system.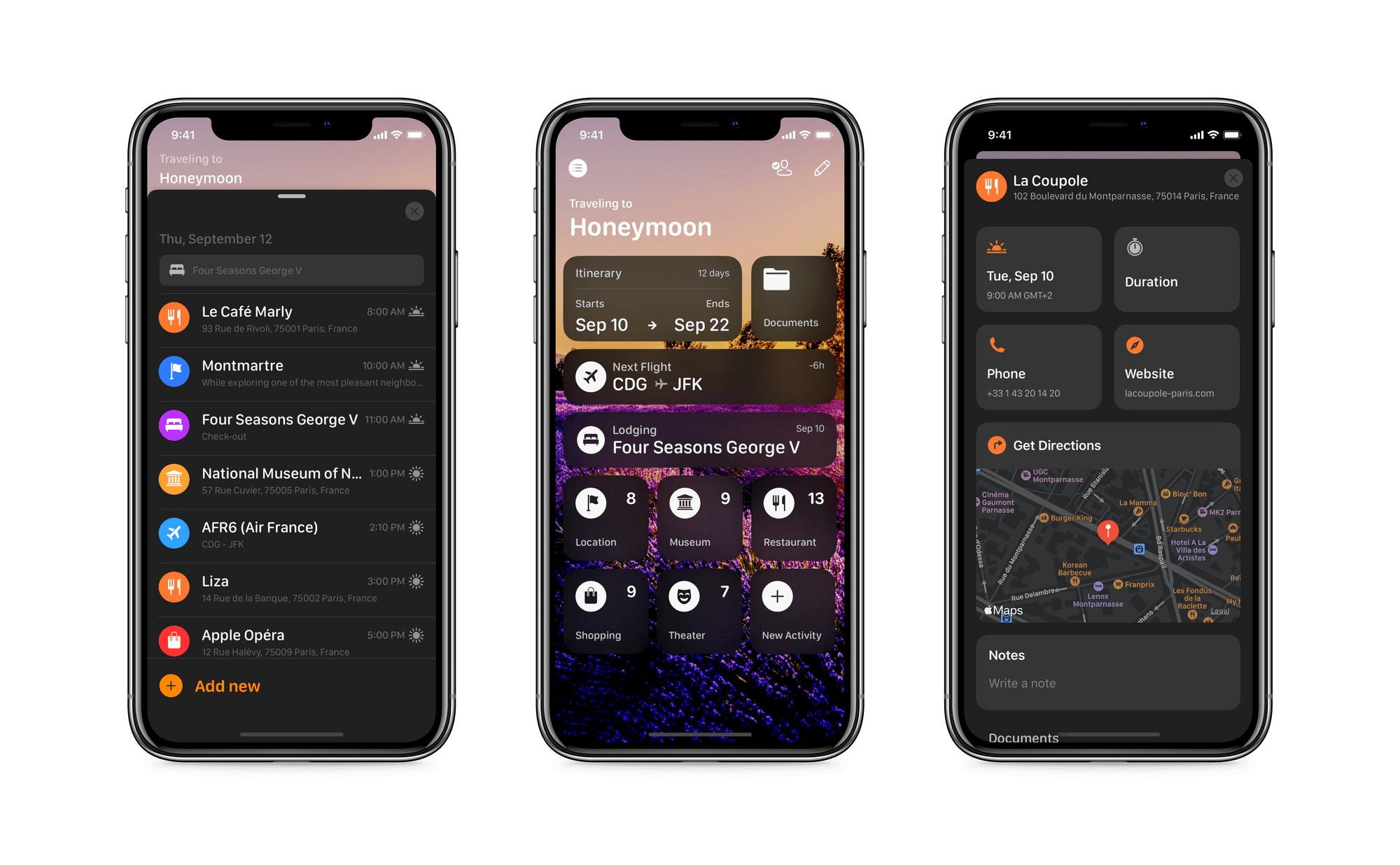 Apple Sign-In
Doesn't feel like typing your email and password to login or create a new account in our cloud? You can now use Apple Sign-In, another new feature on iOS 13. This feature will use your Apple ID information to create a new account in our cloud system. You can read more about Sign in with Apple here.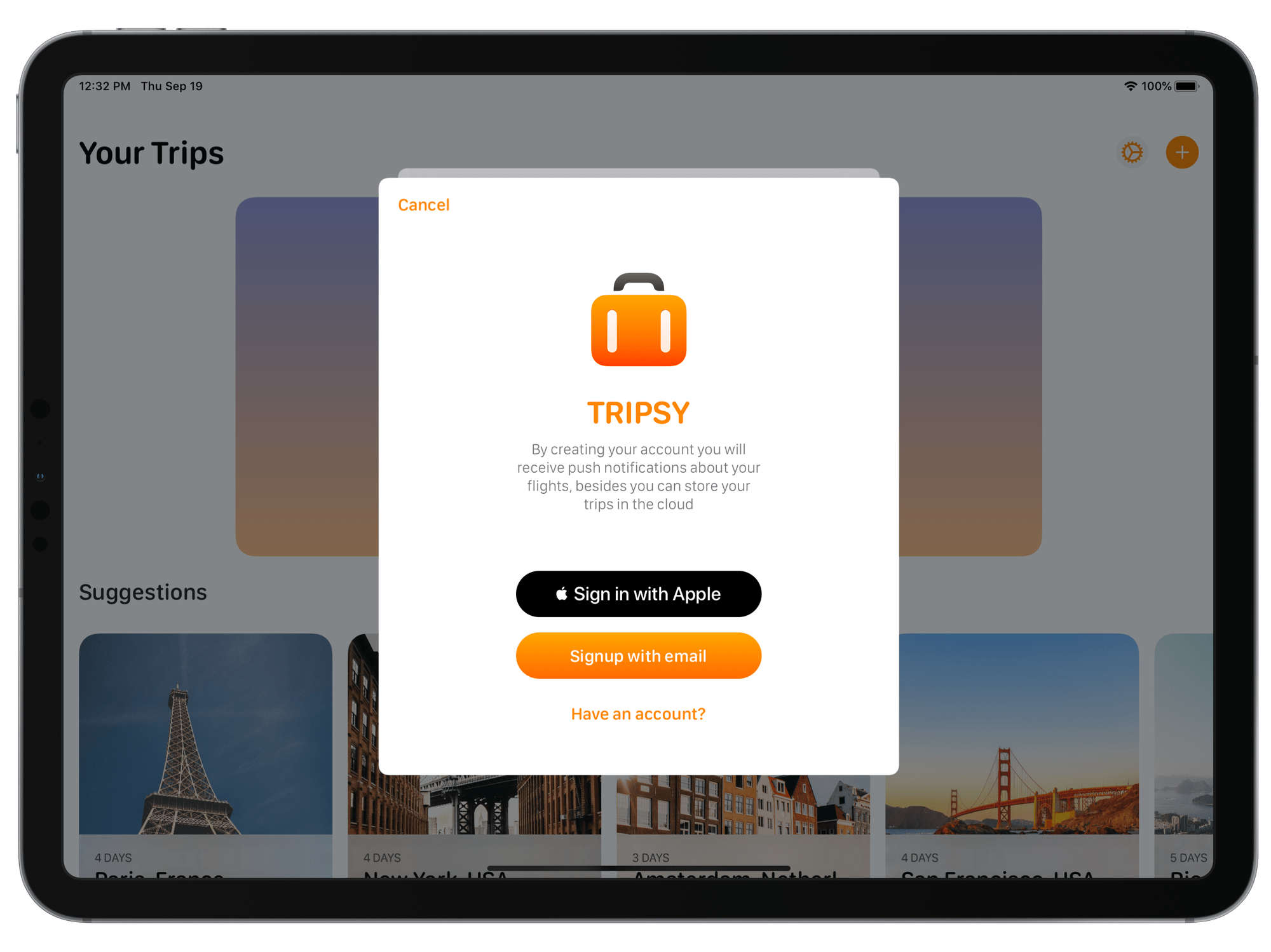 Siri Event Suggestions
With Siri Event Suggestions, when you add a new flight, hotel, train or restaurant, Siri will try to understand this activity and send you reminders when appropriated and will also suggest you a calendar event in some cases, that you can add or not if you don't want to. For example, Siri might remind you about your time to leave to the airport, or the train station, or give you the directions to your hotel.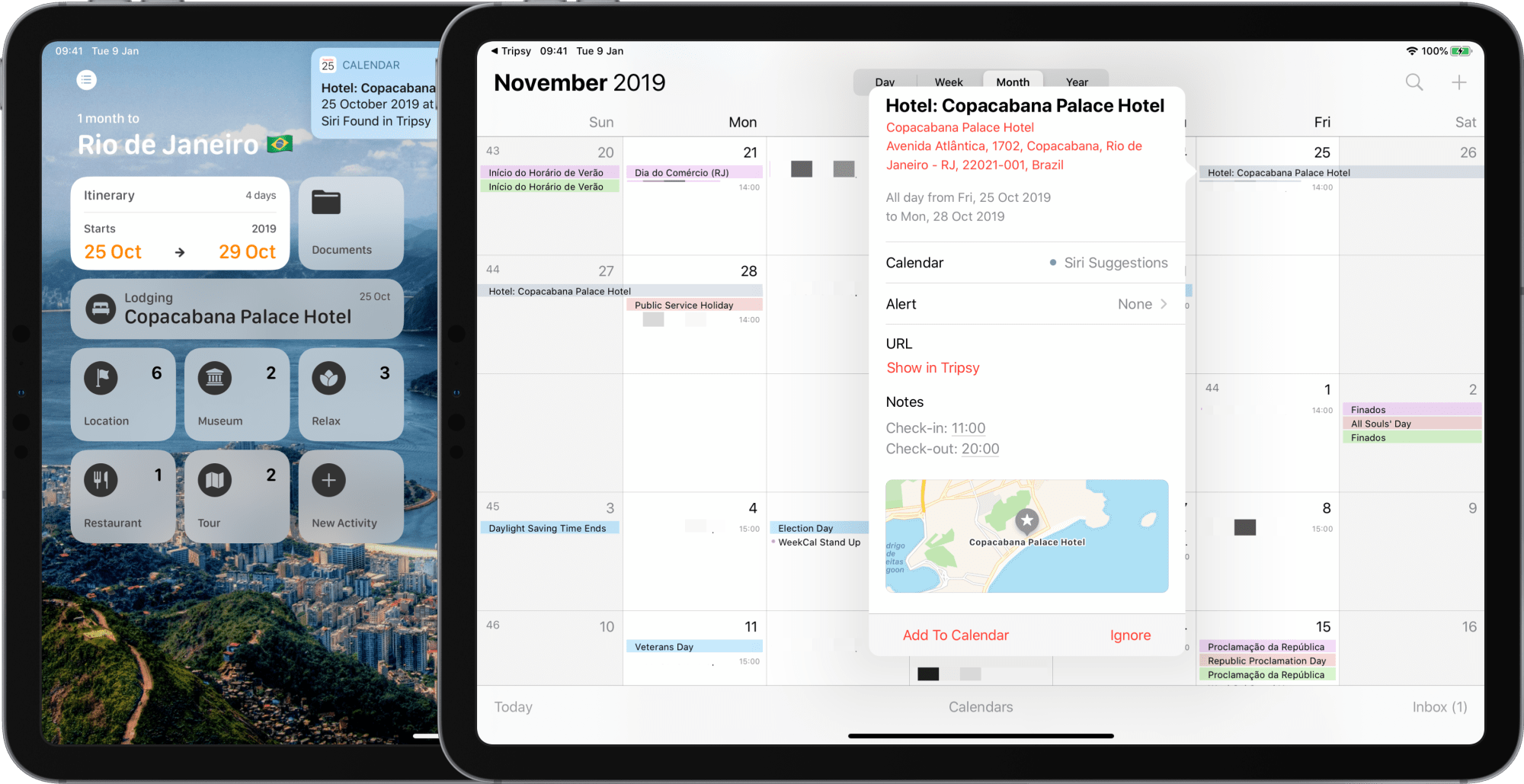 iPadOS multi-window support
On iPadOS, you can now have multiple windows of Tripsy running, so you can keep one eye for example, on the list of restaurants while changing the activities you want to go later, or focus on one activity at the time, you choose. 🕺
Drag & Drop from Maps, Safari, and others
You can now drag and drop places and links from other apps into your itinerary or activities list. This feature is available on iPadOS only.
You can also try dragging links from Safari or other apps
New Website
We have now a new website to show how the app works, and it looks gorgeous: https://tripsy.app. It also works in dark mode with some unique interactions. 😎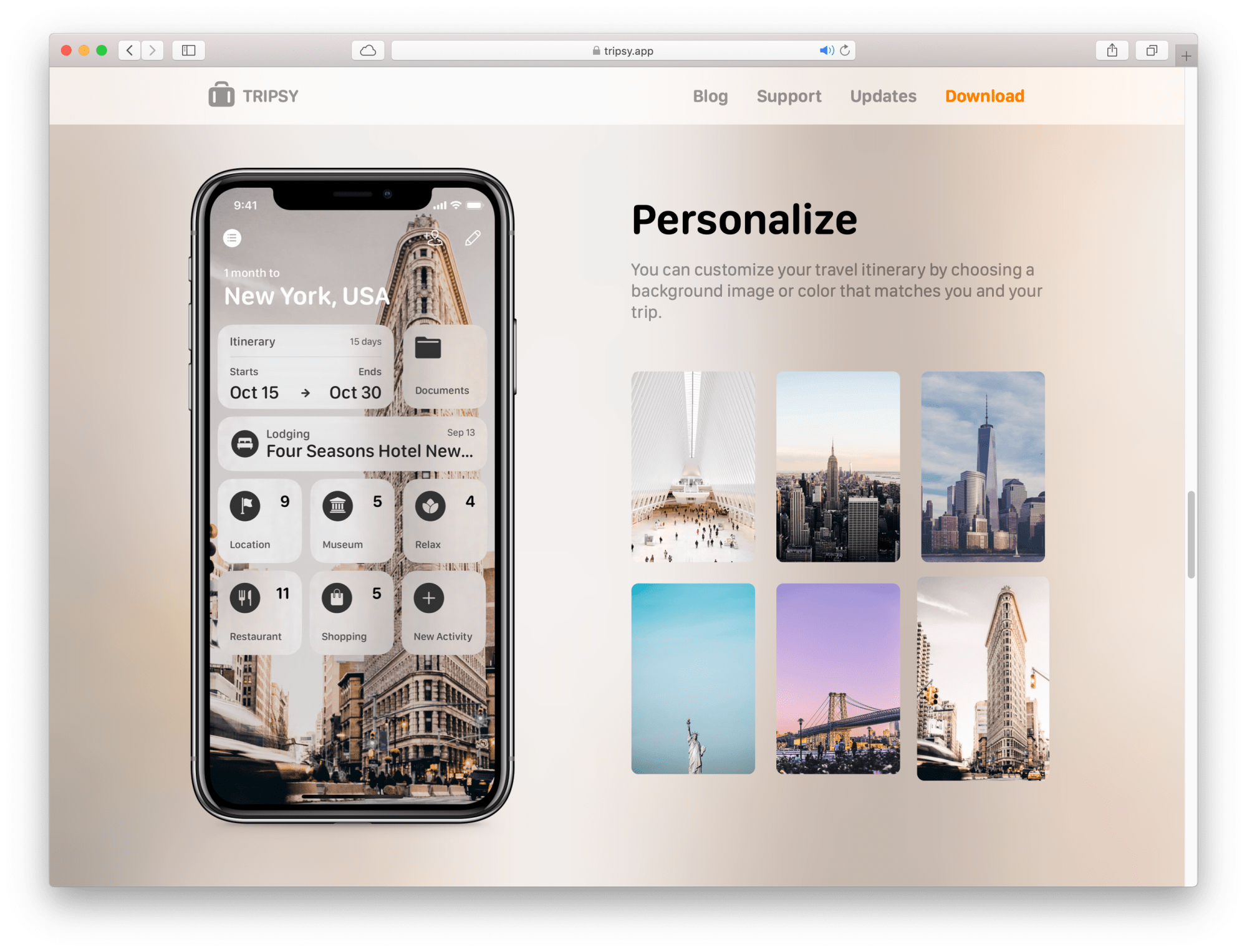 New Support Page
We care a lot about giving a great support experience to our users, that's why we're moving to a brand new support system that's gonna help us coordinating all that: tripsy.help.
On this page, you can find the most frequently asked questions, some tips and tricks about how to take more advantage of Tripsy and a form to send us a message as well, come talk to us! 👋
---
That's all for today. Thank you very much for reading our blog, you can keep following our work on our Twitter and Instagram account.
If you liked this update, please leave us a review on the App Store. ⭐️
Have a great rest of your day and safe travels! ✨